After six rounds of messing up, I was ready to give up. I couldn't get my legs to leap far enough from one platform to the other. I kept falling down into the mucky green water below as the blow horn of failure echoed through the sky. The crowd collectively cringed each time my face splatted against the surface of the water. At some point in the game Wipe-Out, everyone reaches their limit, and for me, this was my limit.
Then a small but powerful voice from within told me to try one last time. I lifted myself out of the water. I carried all 190 lbs of my body, plus 15 lbs of soaking wet clothes to the platform. I took a deep breath, leaned back and leapt. Mid air, I could tell this jump was different than the others. I had a new life in me that was propelling me further than any other time before. And like that, I made it to the other side! An instant euphoric feeling washed over my body and for a moment, I felt invincible.
"Never give up. Today is hard, tomorrow will be worse, but the day after tomorrow will be sunshine." – Jack Ma
I wasn't on Wipe-Out. This was a dream I had last night. It's significant to me because it's the first time I can remember having a dream where I failed so many times, but the dream kept going until I succeeded.
"The temptation to quit will be the greatest just before you are about to succeed." – Chinese Proverb
I think a lot of people want to have success in health, wealth, love and/or happiness in their life, but most aren't willing to put in the hard work to make it happen. I often say I'm an overnight success 10 years in the making because I've been working at it for that long.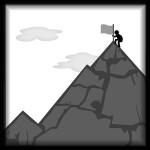 Play To Win

Play to Win is one of five core values in my life. It means to maximize resources to finish what you start and exceed expectations in doing so. I don't say yes to a lot of things because when I do say yes, I want to give it my all. I don't see the point in committing to something with 66% of my energy.
My Wipe-Out dream felt like a summary of my life where one of my core values was challenged and my internal voice stepped in to keep me going, which might be why the euphoric feeling at the end felt so great.
Have you ever had a dream like this?